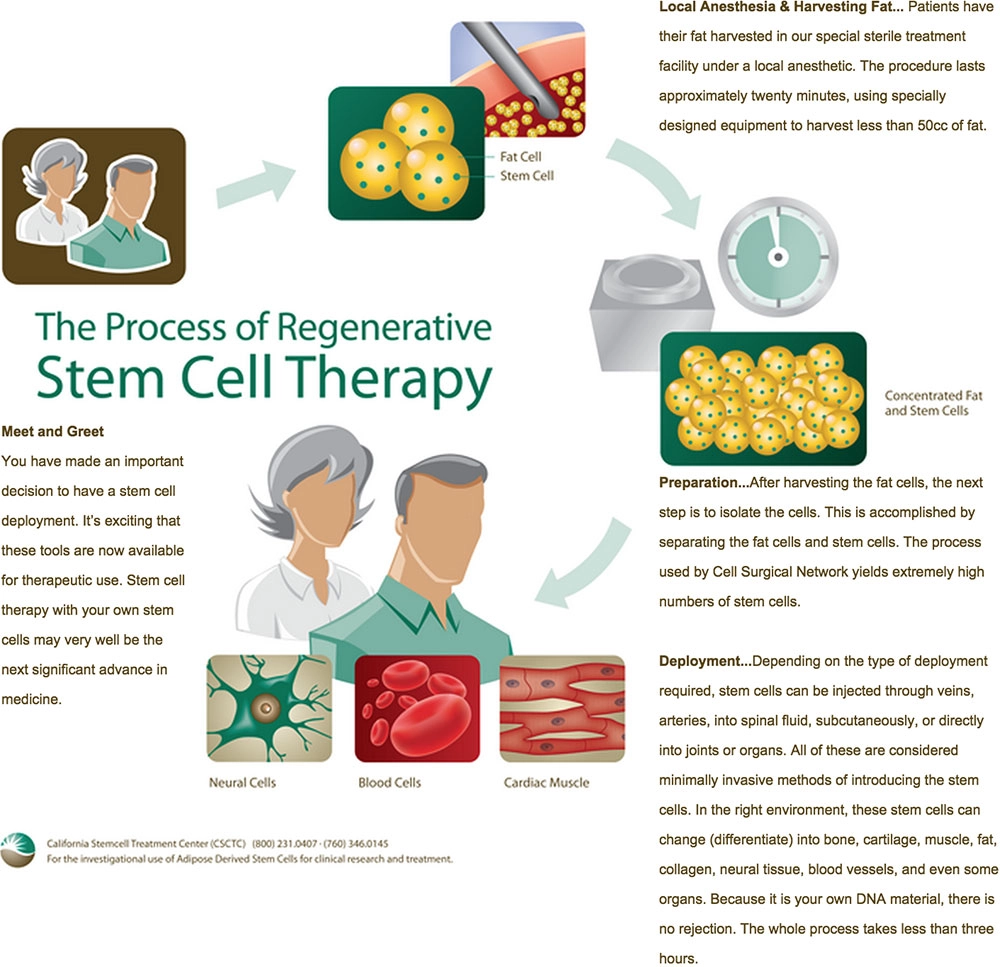 Limitless Health & Wellness is the only clinic in the Chicago area to offer adipose derived stem cell therapies.
OUR MISSION
The affiliates of the Cell Surgical Network® (CSN) are devoted to advancing access and quality care in the area of adult stem cell regenerative medicine in order to help people suffering from a variety of inflammatory and degenerative conditions.
OUR STORY
In 2010, Dr. Mark Berman brought back vital technology from Asia that allowed us to isolate SVF stromal vascular fraction which contains high numbers of regenerative cells using a person's own fat as part of a minor closed surgical procedure. Later that year, Dr. Berman teamed up with Dr. Elliot Lander to identify methods to explore the potential therapeutic benefits of SVF. Drs. Berman and Lander continued to improve the process and then formed California Stem Cell Treatment Center, a multi-specialty team that could deploy SVF to patients under an institutional review board that governs investigational work on humans. The main focus of the project was to establish the safety of autologous use of SVF for various degenerative conditions. This pioneering work spread rapidly since Dr. Berman and Dr. Lander believed that it was vital to teach the technology to qualified physicians who wanted to bring regenerative medicine into their own practices. The Cell Surgical Network® was founded in 2012 to help accomplish this goal. Affiliate physician members of the research group are made up of teams of multidisciplinary specially trained physicians in order to best assess and provide care for their patients.  The Cell Surgical Network® emphasizes quality and is highly committed to clinical research and the advancement of regenerative medicine.
Currently, all Network members are highly qualified and credentialed physicians who use the same sterile closed surgical procedure to process fat from a mini-liposuction procedure in order to isolate and implant a patient's own source of regenerative cells on the same day. There are four different types of regenerative cells found in SVF stromal vascular fraction and these cells containing your own DNA work together with important natural growth factors (signaling molecules) to advance and promote your body's natural healing processes. Our technology allows us to isolate high numbers of viable cells that we can deploy during the same surgical setting and specific deployment methods have been developed that are original and unique for each condition being treated.  While vigilant about patient safety, we are also learning about which diseases respond best and which deployment methods are most effective. Our support team coordinates the collection of data from our affiliate centers all over the world to make the Cell Surgical Network® the world's largest regenerative medicine clinical research organization. Affiliate network physicians have the opportunity to share not only their data, but their vital clinical experiences thus helping each other to achieve higher levels of scientific understanding and optimizing medical care.
Cell Surgical Network Doctor Testimonials